FREE Spiritual Business Workshop with Master Spiritual Teacher Colby Rebel
September 8, 2022 @ 11:00 am

-

12:00 pm

PDT
FREE Spiritual Business Workshop WITH CERTIFIED MASTER SPIRITUAL TEACHER & INT'L PSYCHIC MEDIUM COLBY REBEL
Ready to LIVE your purpose?
Tired of the 9-5 grind? Feeling unfulfilled in your purpose? Ready to start your own Spiritual Business? Join Colby Rebel for this FREE 1 hour power hour focusing on building your Spiritual Business!
✨ Are you tired of feeling stressed about your business?
✨ FEELING there's more you could be doing?
✨ Struggling to bring in those clients?
✨ Wanting more confidence in yourself & business?
✨ Ready to launch or expand your business in 2022?
Perhaps you've been thinking about starting your Spiritual business or you already have one, but it's simply NOT doing as well as you'd like. There are many factors to a successful business from mindset to management.
As a certified master spiritual teacher, prior tax manager, and successful entrepreneur, I want to help YOU build a business that thrives!
This workshop will help you change your mindset and give you the tools to help you become fully in alignment with your passion and purpose.
There is no need to struggle with the steps. Master Spiritual Teacher Colby Rebel will work with you to give you her proven plan of success and the essential building blocks to take your passion to your profession.
This is a FREE workshop to be held on Thursday, September 8th, 2022 from 11:00am-12:00pm pst.
Open to ALL levels of starting your Spiritual Business
Workshop Includes:
✨ Building confidence!
✨ Transitioning to self-employment. How do you do it?
✨ Following your intuition in decision making.
✨ Services you want to offer. What do they look like?
✨ Understanding your mission and purpose
✨ Growing your business
✨ Building your social media platform
✨ Attracting the right clients
✨ Branding that is in alignment with your purpose
STUDENT TESTIMONIALS:
✅ When you find a mentor that can see your vision and have you take a step that gets results then hold on tight because it's going to be an amazing ride!
✅ In the two rounds of working with Colby Rebel I have two events under my belt and a third approaching soon. I'm preparing for my first workshop, have updated headshots, and serve spirit at Sunday service. If I was left to my own devices I would let myself off the hook a long time ago and would not be actively participating in my calling."-S.Sanders
✅ Thank you Colby Rebel for being such a great mentor and teacher and helping step out of my comfort zone.♥️♥️♥️♥️♥️♥️ -C. Mugz
Colby Rebel is an International Psychic Medium and Certified Master Spiritual Teacher. She is renowned for her guidance and discretion to Hollywood's elite and celebrities. She has been featured on several television and radio shows demonstrating her gift to audiences around the world. Colby served as a tax manager for 14 years and is the author of 3 Best Selling Books Leap of Faith, Psychic Senses and Coffee with Colby. Colby has built a reputation of bringing practicality to Spirituality and her mission is giving the clarity needed to tune into your true self and spirit connection.
*no refunds permitted *must be committed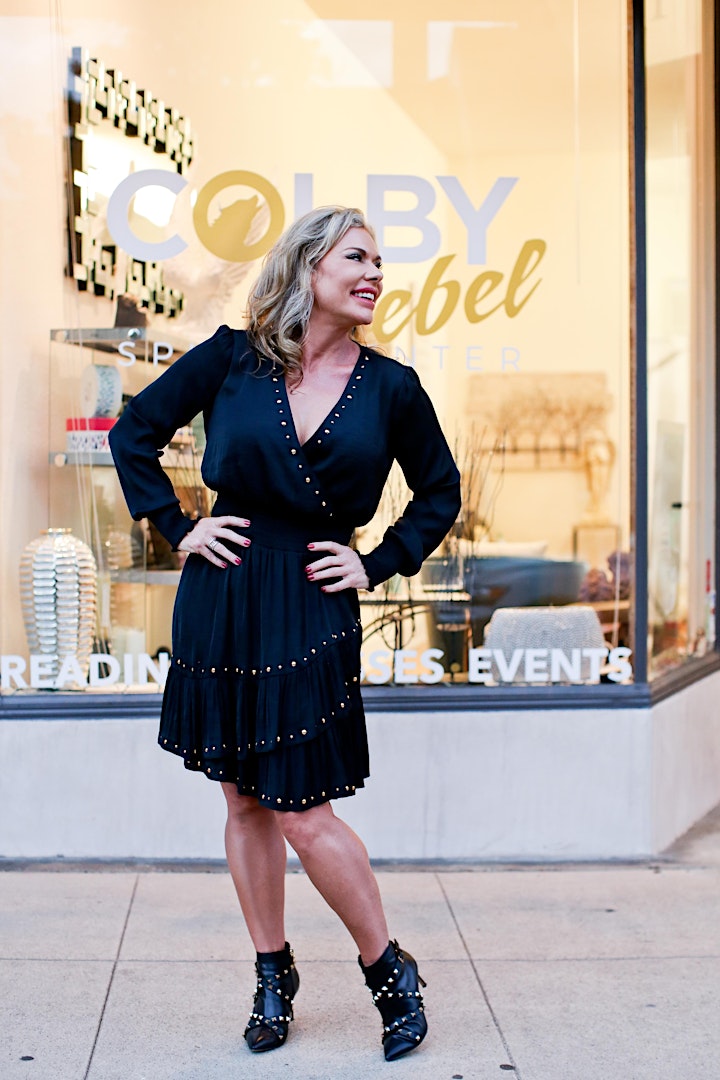 Related Events