SPIRITUAL BUSINESS GROUP MENTORING-COLBY REBEL
November 3, 2022 @ 3:00 pm

-

4:00 pm

PDT
SPIRITUAL BUSINESS MENTORING WITH CERTIFIED MASTER SPIRITUAL TEACHER & INT'L PSYCHIC MEDIUM COLBY REBEL
🧘‍♀️ READY TO TAKE YOUR LEAP OF FAITH?🧘‍♀️
SPIRITUAL BUSINESS GROUP MENTORING WITH MASTER TEACHER COLBY REBEL
✨ Are you ready for freedom?
✨ FEELING a nudge from Spirit?
✨ Struggling to build your business?
✨ Ready to move your gifts into the professional realm?
✨ Ready to put FEAR aside?
A successful business starts with a solid foundation. It takes inner work to understand your purpose and clarity on HOW you are meant to serve Spirit.
It's knowing what services to offer, how to offer them ,and how to attract the right clients. How to "get out there" and STEP into YOUR PURPOSE with passion!
You may have a dream of starting your own Spiritual Business but don't know the HOW or the WHY. Perhaps, you have one, but are struggling to get clients consistently. Maybe you are not feeling confident?
There is no need to struggle with the steps. Master Spiritual Teacher Colby Rebel will work with you to give you her proven plan of success and the essential building blocks to take your passion to your profession.
This is a SPECIAL Spiritual Business GROUP offering starting NOV 3RD, 2022. You will be in a supportive group to network, co-create and support one another!
Open to ALL levels of starting your Spiritual Business
Program Includes:
(4) GROUP ZOOM MEETINGS HELD WEEKLY-60 MINUTES
✅ WEEKLY Follow-Up Email
✅ WEEKLY Homework Assignments
✅ You will be part of a PRIVATE FB Group for members ONLY
Each Week FOCUSES on a TOPIC. Topics Include:
✨ How do you get started? Taking Your First Steps!
✨ Transitioning to self-employment. How do you do it?
✨ Learning to trust and surrender to Spirit
✨ Services you want to offer. What do they look like?
✨ Understanding your mission and purpose
✨ Growing your business
✨ Building your social media platform
✨ Attracting the right clients
✨ Branding that is in alignment with your purpose
✨ Building Confidence!
🐦 💵 $425 per package OR SIGN UP BEFORE 10.28.22 TO RECEIVE THE EARLY BIRD PRICE of $375💰
NOV 3 | NOV 10 | NOV 17 | DEC 1
STUDENT TESTIMONIALS:
✅ When you find a mentor that can see your vision and have you take a step that gets results then hold on tight because it's going to be an amazing ride!
✅ In the two rounds of working with Colby Rebel I have two events under my belt and a third approaching soon. I'm preparing for my first workshop, have updated headshots, and serve spirit at Sunday service. If I was left to my own devices I would let myself off the hook a long time ago and would not be actively participating in my calling."-S.Sanders
✅ Thank you Colby Rebel for being such a great mentor and teacher and helping step out of my comfort zone.♥️♥️♥️♥️♥️♥️ -C. Mugz
Colby Rebel is an International Psychic Medium and Certified Master Spiritual Teacher. She is renowned for her guidance and discretion to Hollywood's elite and celebrities. She has been featured on several television and radio shows demonstrating her gift to audiences around the world. Colby served as a tax manager for 14 years and is the author of 3 Best Selling Books Leap of Faith, Psychic Senses and Coffee with Colby. Colby has built a reputation of bringing practicality to Spirituality and her mission is giving the clarity needed to tune into your true self and spirit connection.
*no refunds permitted *must be committed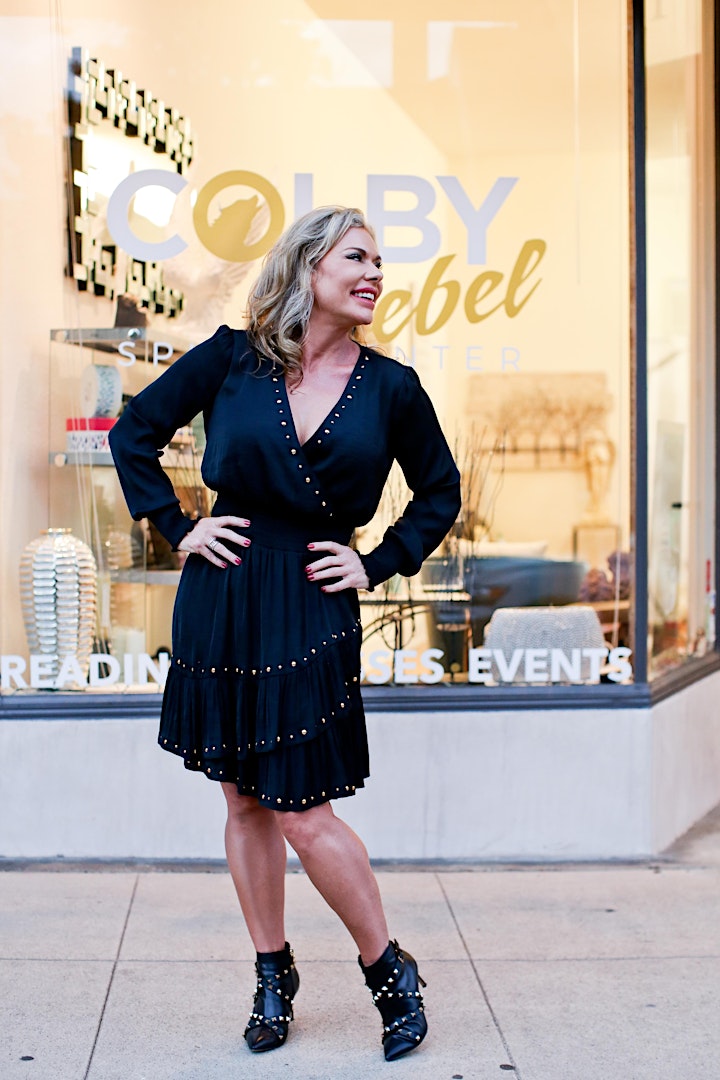 Related Events